Finally, The One Book That Not Even Oprah Herself Was Ready For...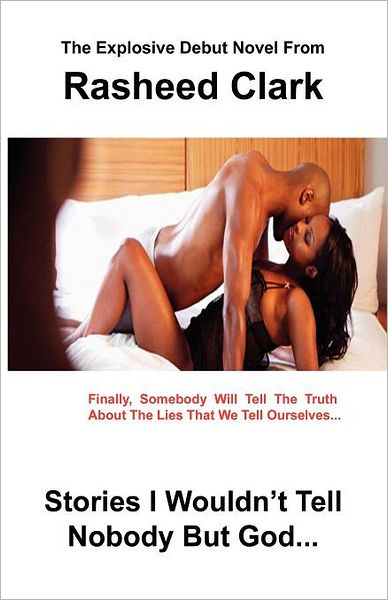 'Stories I Wouldn't Tell Nobody But God' (Edited and Revised For 2011)
In Celebration Of The Thousands Of Readers That Has Made This Book A Bestseller Five Years In A Row... Here's The Revised, Re-Edited Fifth Anniversary Edition Just For You!
Not since Terry McMillan's "Waiting To Exhale," has a book been so raw, gritty and honest about love, loss, family, relationships, acceptance and trust and put a voice to the collective frustration felt by millions of people looking for love in all of the wrong places.
Finally, somebody will tell the truth about the lies that we tell ourselves. "Stories I Wouldn't Tell Nobody But God," the long awaited, explosive debut novel by Rasheed Clark, is an emotionally charged, provocative and page-turning story of four friends: Sista, Brian, Day and Nikki and the rollercoaster ride that they call their lives, through triumph and tragedy…
…Sista, who will lose the only man that she has ever truly loved, as she allows her weight to determine her self-worth.
…Brian, who must learn the hard way that a good woman isn't hard to find, he just has to be man enough to keep her.
…Day, who must learn to accept himself for who and what he is.
…Nikki, whose perfect world is shattered when she chooses to love a man more than she has ever loved herself and it almost, cost her, her life, because of that man's infidelity and lies.
Powerfully told, heartwarming and funny, "Stories I Wouldn't Tell Nobody But God" will leave you wanting more. There are many things, stories that many people wouldn't tell nobody but God, and still so much more that many people tend to keep to themselves, out of fear that nobody but God would understand…until now.
Read Right Now A Shocking Excerpt Of Nikki's Story


(This excerpt has been edited for graphic language!)
'Wait, this can't be happening,' I thought to myself. I looked at the girl, then at the little girl and instantly, I knew. Renee, that's the name she gave me, attempted to snap me out of my daze as I stared at her daughter. I regained my composure and looked at Renee again. 'And you are?'
'Renee,' Renee said suddenly confused but then she realized that I didn't know her. 'I am Reggie's daughter's mother.'
'Reggie?' I said. This felt like some soap opera stuff.

'Reggie,' Renee said again. 'Tall, dark-skinned and he got a bald head. This is our daughter, Nicole.' I could see that.
'He'll be here soon. He called from the airport. Would you like to come in?' I said moving aside. But she didn't move. She just looked at me. I just looked at her, finally realizing that I just met my man's daughter's mother for the first time, a child that I never knew about to begin with. I wasn't hurt though, I wanted answers. "Listen, I think we really need to talk.'
'Talk? About what?' Renee said eyeing me suspiciously. 'We don't need to talk about nothing. Who are you?' This chick is ghetto.
'Wait a minute,' I said taking a minute to check myself. I was through with being polite. So I leaned in so that her daughter didn't hear. 'I see you need the remix. You slept with my man and you are coming off like you are the injured party. Let's try this again, bitch. I said we need to talk. Can we talk woman to woman? Are you at least woman enough to do that? Or should I skip the preliminaries and just beat your natural black ass?'
Renee looked hesitantly at me again then at her daughter. I guess she thought about it for a second and realized I was serious. So Renee walked in, holding Nicole's hand tight, as I moved aside. I took a deep breath and closed the door. It was on and I wouldn't have it any other way…

Finish Nikki's explosive story of infidelity, lies and betrayal in Rasheed Clark's long awaited 'Stories I Wouldn't Tell Nobody But God' and discover for yourself what has been keeping thousands readers up at night. This is the one book you won't be able to put down and won't soon forget…
"Stories I Wouldn't Tell Nobody But God" and its explosive sequel "Cold Summer Afternoon" are both available and on sale now exclusively at Amazon.com and Barnes & Noble's and it's website. Buy a copy for you and someone that you know that loves a good book. Ask your favorite book store or even library to put them on their shelves.


Thousands of readers can't be wrong...
Click on one of the links below to order your copies of "Stories I Wouldn't Tell Nobody But God" and "Cold Summer Afternoon" right now.
You will be so very glad that you did.
So what are you waiting for? Order now!
A March Third Imprints Company Production