And Now The Most Highly Anticipated, Yet, Shocking Sequel That You Will Ever Read...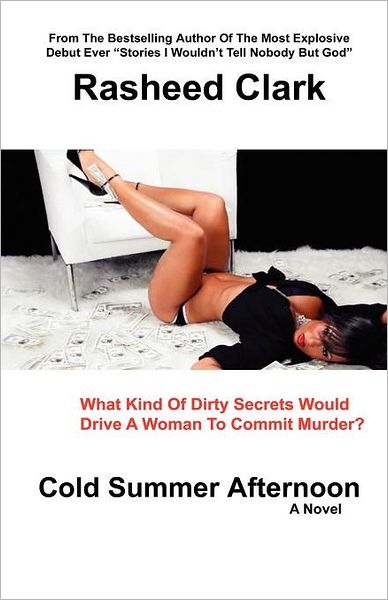 Cold Summer Afternoon (2011)
Discover For Yourself What Kind Of Dirty Secrets Would Drive A Woman To Commit Murder?
Love. Infidelity. Deception. Abuse. Lies. Shameful secrets. Hurt. Mistrust. For one of four women, it's enough to drive her to commit murder…
April… Trapped in a loveless marriage to a less than loving, abusive husband, she was alone until she meets Brian Robinson, who just lost the love of his life. Will she risk her marriage and make the ultimate sacrifice to find love again?
Renee… She made the transition from being the "other woman" to being one man's wife, but at what cost? She soon discovers what goes around truly does come around.
Blue… She must discover the hard way that you can't run from your past or yourself, especially when a man is involved? What will she do when she comes face to face with the man she promised to love forever?
Loretta…After destroying her own marriage through her own lies, infidelity and insecurities, she now holds the fate of another marriage in her hands. Wait until the man's wife finds out…
Brace yourself for a story you won't soon forget. Filled with more twists and turns than a rollercoaster, Cold Summer Afternoon is the book everybody will be talking about right up to its surprising ending…
Here's An Excerpt Of The Most Highly Anticipated Book Ever…
I sat in the dark of my apartment for over an hour. The only light came from the street lamp outside my apartment building.
I looked around trying to figure out the number of times I wanted to burn this place down to the ground just like Left Eye tried to do to Andre Rison's place. Okay, maybe that was an accident. I was just that upset.
I thought about the times I wanted to poison his food and watch him gasp for his last breath. I would then just finish my untouched dinner and then plan his funeral. I wanted him to suffer as much as possible. Then, I'd be happy. Maybe.

I picked up my drink and swirled the ice around in the glass and then ran my hand across the gun. It was lying on the cushion of the couch next to me. I wanted to make sure it was still there. It felt cool to my touch.
Touching it, I thought about all of the arguments, the fights, the lies and the threats that came down to this one moment. I wanted him to die. In my mind, I already died several times inside. I wanted him to hurt just as much as I do now.
For far too long, I put up with his brand of drama like some people put up with a headache. The only difference is that now payback is a bitch.
I didn't plan on killing him at first, but right now, I didn't have the strength to live with what he has done. At least what he did to me, I didn't even want to think about it. My blood ran cold when I did.

Now, sitting here, I realized he could take everything from me. I realized that my happily ever after fairytale was all built on a lie. I looked around again and had to ask myself what would drive a woman to murder?

How did I let it get to this point? I should have left. I should have been strong enough to walk away. It doesn't matter. I know how I planned to end it. I am going to finish it my way. I put my drink down on the coffee table and ran my hand across the gun again. It was still there. Where was he?
I took a deep breath and waited. Hold on. Wait. You hear that? I heard the familiar jingle of the keys to the front door. He's home. I picked up the gun, stood up and aimed it at the door. I wasn't sure if he would turn on the lights. I prayed he wouldn't. My hands started to shake.

I felt my palms grow damp under the weight of the gun. There were six bullets in the gun and every one of them belonged to him.

Slowly, the door opened. I heard a voice. Then, a brighter light washed over the room overtaking the light from the street lights outside.

I closed my eyes and pulled the trigger. Boom. Boom. Boom. Boom. Boom. Five shots. I didn't want to open my eyes until the gun was empty and hopefully, he was dead… Finish the story and find out what kind of secrets would drive a woman to commit murder in Rasheed Clark's Cold Summer Afternoon...

"Stories I Wouldn't Tell Nobody But God" and its explosive sequel "Cold Summer Afternoon" are both available and on sale now exclusively at Amazon.com and Barnes & Noble's and it's website. Buy a copy for you and someone that you know that loves a good book. Ask your favorite book store or even library to put them on their shelves.


Thousands of readers can't be wrong...
Click on one of the links below to order your copies of "Stories I Wouldn't Tell Nobody But God" and "Cold Summer Afternoon" right now.
You will be so very glad that you did.
So what are you waiting for? Order now!
A March Third Imprints Company Production